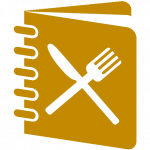 Currently we are unable to provide lunches due to Covid-19 but hope to be able to provide them again by the Summer term.
The nursery provides a menu for each half term allowing parents to book their child's hot lunch in advance. Some examples of lunch choices are:
tomato pasta
pizza
fish fingers
chicken bite
beans on toast
Alongside the main choice the children will be served a selection of fruit and vegetables, savoury and sweet snacks, yogurts and raisins and water to drink.
Some children always have hot lunch, some always have packed lunch and some mix and match. We always aim to be very flexible.
The lunches are very popular with families at the cost of £2.
The children are also offered a daily snack free of charge. Download the snack menu here.